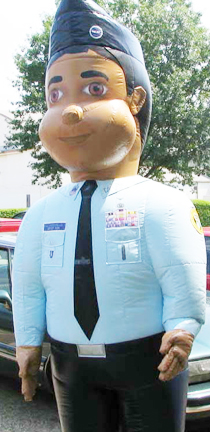 CAP's DDR Mascot
Cadet Ken
Drug Demand Reduction

Ever changing drug patterns, the continuing transmission of HIV infection among drug abusers and the need to develop new and effective treatment & prevention interventions underscore the importance of Civil Air Patrol's Drug Demand Reduction education and training. Civil Air Patrol's goal is to be a leading force in America's drug demand reduction strategy through the development of tomorrow's leaders in volunteer community service for a drug-free world.

Programs like Model Rocketry and Color Guard and the annual Wing Encampment offer our members fun and exciting ways to develop their minds and personalities in a way that will benefit them when they become adults. Our program:
Promotes Civil Air Patrol as a positive community service lifestyle.
Encourages youth to remain in school.
Focuses on drug abuse education, prevention and awareness.
Provides positive activities as an alternative to drugs and gang violence.
Civil Air Patrol is the ANTI-DRUG!!!
1Lt. Dianne Collazo
Drug Demand Reduction Officer